The biggest thing bugging me about the MP was the waste of space that is the folding chair carrier! It takes up nearly all the useable under bed storage and is difficult to get the chairs out if you have something underneath the carrier and still requires you to undo two clips and two zips to get access to the chairs. I don't know who designed it but even worse who approved it! I have today been looking at the storage space and replaced it with three straps!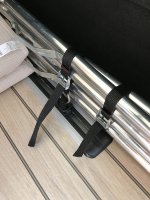 Two straps hold both chairs together and one strap secured the side of the chairs to a luggage loop placed in the rails. The last strap is the is already attached to the bed frame and secures the front.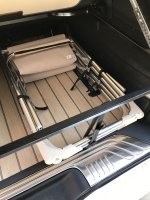 It all looks like this!
There is now enough space to put a porta potti quebe 335 between the chair legs and even a 15m electric hook-up cable.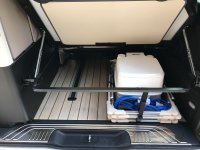 And even with all this in there is an 80x50x30cm space on the left for more!