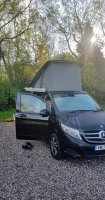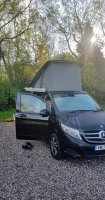 So, following the recommendations on this site we joined the C&MH club and travelled to a beautiful and quiet site on the Wirral.
After a lovely, if wet, day we cooked our evening meal and settled down chatting(No TV!!) and drank a bottle of wine.
Around 11 it dawned on us that everyone else on the site had gone to bed and we hadn't even started.
It all went well until the hiss from the lower bed side bolsters emptying set the dog off
I bet we were popular!
A few things we learnt(learned?)....
Very easy and comfortable van to drive
We need to get our act together re storage
Massive amount of condensation in the morning.
Fridge on 3 froze everything solid, even on 1 it seemed too cold
And, Mercedes dealers are poor!! They installed a new fridge thermostat and the lower lighting now doesn't work.
4 weeks after a service and driving back on the M6 I get warning flashing up telling me the engine oil level is too high!
As an aside, even though the van has a couple of pimples on the GRP roof, there's no bloody way I'm letting our local dealers anywhere near it.
All in all an enjoyable weekend and we're pleased with our purchase